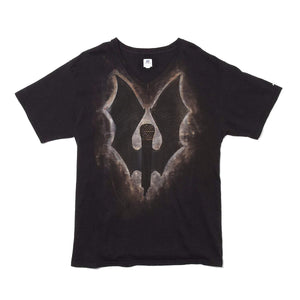 Limited edition and screen printed in NYC using the finest water-based fabric paints. Unisex size large.
About the Design:
When bats fly, you can't hear them. These creatures create inaudible sound, stretching us to imagine a world beyond what we can sense. Our Invisible Sound design inspires us not just to hear, but to listen: to tap into new frequencies and forge new connections every day.
About the Impact:
Before it made its way to us, this 100% cotton tee was conventionally manufactured, requiring significant water and carbon usage. Only buy it if you plan to love it for a good while, swap it or repurpose it. If you choose to dispose of it, please do so in the kindest way possible or send it back to us and we will pay the shipping.
Washing Instructions: 
For best results, turn garment inside out and wash in cold water using a mild detergent. Dry on low heat.